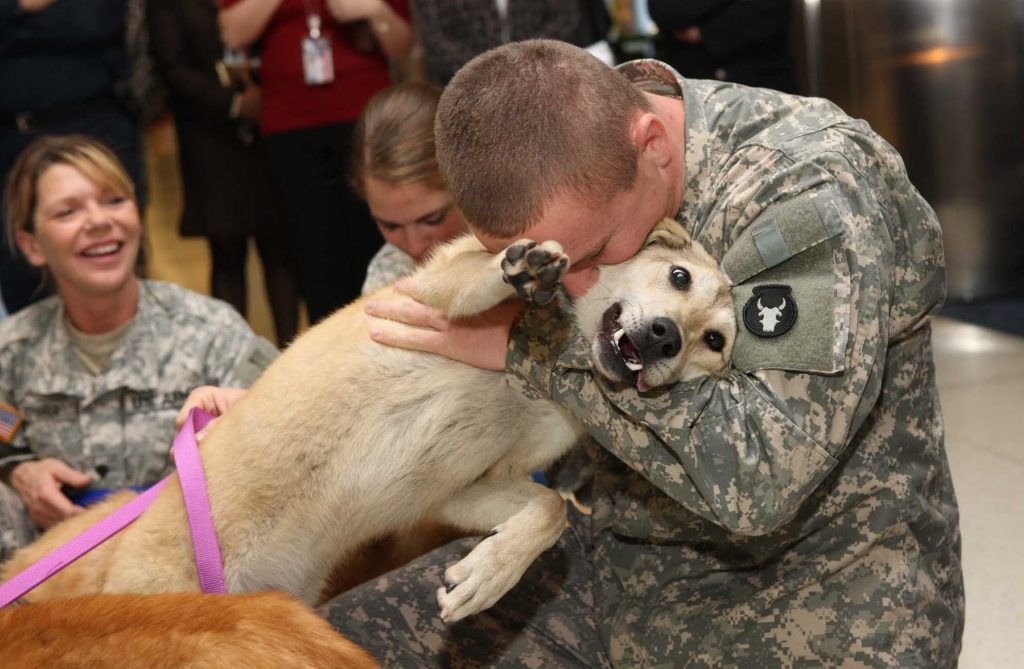 Military Dog Team Reunifications
American Humane honors the lifesaving contributions of all veterans, including the four-legged military dogs who risk their lives in courageously serving our country.

After years of being classified as "equipment" with thousands of military dogs being disposed of or left overseas, American Humane worked with Congress to require that military working dogs be brought back to U.S. soil upon retirement and that their handlers and their families be given first rights of adoption.
Unfortunately, these canine veterans are still sometimes separated from their human counterparts, who cared for and fought alongside them on the battlefield. American Humane is committed to reuniting these retired military hero dogs with their former handlers. After everything these battle buddies have sacrificed for our country, it's the very least our country—and we at American Humane—can do in return.
To ensure that all our heroes come home, American Humane is working to bring back retired military dogs and reunite them with their former handlers. We help raise funds to pay for these heroes' transport home, where the once-inseparable pair can be reunited and enjoy the peace and freedom they earned. The benefits to both soldier and dog are immeasurable and we can make sure that the K-9 veterans who served our country receive the hero's welcome, dignified retirement, and loving, forever home they so richly deserve.
America's bravest men, women, children, and military animals give so much to our country but need your support! Help us thank these heroes for their selfless service by contributing today to make these reunions a reality. Your gift today can help these heroes – and our nation. For more information, please contact us at 1-866-242-1877 or [email protected].