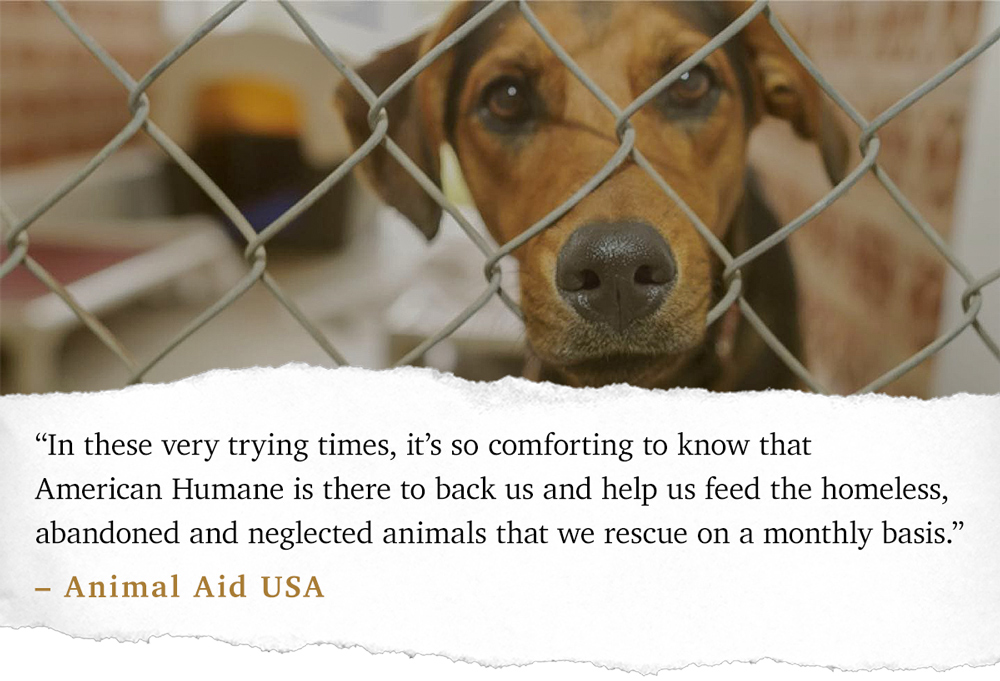 Grants and Awards Initiative
Feed the Hungry COVID-19 Fund
Like every other business or organization in America, rescue shelters are struggling to maintain basic services and care for their animal residents in the face of the current worldwide pandemic. Thousands of animals are being left without homes and facilities are in desperate need of general supplies. In response to the overwhelming number of calls received from animal rescuers, shelters and first responders, American Humane launched the Feed the Hungry COVID-19 fund to feed and care for animals across the country who have been abandoned as a result of the coronavirus crisis. The fund seeks to raise much-needed resources to help shelters and rescue organizations that are not only fighting to keep the lights on, but also to keep critical supplies like food stocked.
"The very sad reality for shelters and rescue organizations today is that they are struggling to keep kibble in food bowls and litter in boxes," said Dr. Robin Ganzert, president and CEO of American Humane. "We must take action to ensure organizations that are housing animals left by the wayside during this sweeping pandemic have the basic resources needed to ensure the safe and humane treatment of animals in their care. To stand by and do nothing during this time is unconscionable."
"Animals have a special place in my heart, and I am saddened to see so many being abandoned and left hungry during this time of crisis," said Jean Shafiroff, Ambassador and Spokesperson for the Feed the Hungry COVID-19 fund fund. "I hope to be able to help American Humane call even more attention to the critical need to help pets across the country and turn temporary homes into forever homes for many who being fostered during the pandemic."
Jean Shafiroff
Renowned philanthropist Jean Shafiroff serves as an ambassador and spokesperson for the Feed the Hungry COVID-19 fund. Jean is an author, advocate and serves on multiple national and regional philanthropic boards. She is also the host of "Successful Philanthropy" on LTV.
Apply for the grant
In order to qualify for our grants, your agency must be a Non-Profit with 501c(3) status or a Municipal Agency. We realize the need is immense, but we are unfortunately unable to fulfill every request. If you do not receive a response from us, you have not been selected to receive the grant funding. Please do not email or call to inquire on the status of your grant application.
April 2, 2020
As the world adjusts to a new reality, shelters and rescue organizations across the country are finding themselves struggling to keep food in bowls and litter in boxes. Starting today, American Humane has begun to award our Feed the Hungry COVID-19 fund grant to numerous animal welfare groups in need, with many more to follow. Here are just some of the heartfelt messages we've received:
In the Press