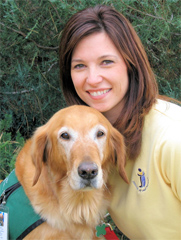 Amy McCullough, Ph.D.
Biography
Dr. Amy McCullough serves as the National Director, Rescue and Military Affairs (Lois Pope LIFE Center for Military Affairs)
As national director of the Lois Pope LIFE Center for Military Affairs, Dr. McCullough oversees a broad spectrum of programs that are part of American Humane's century-long work to support the U.S. military, its service men and women, and military animals. The center repatriates and reunites retired military hero dogs with their handlers, helps veterans struggling with PTS to obtain lifesaving service dogs, and provides free healthcare to America's four-legged warriors who have completed their service to our country. It also works to develop national standards for the training of service dogs for veterans, improve access to public spaces and transportation for our retired two- and four-footed warriors, and recognize the remarkable achievements of the nation's military hero dog teams.
Dr. McCullough's research responsibilities encompass the design and implementation of rigorous studies to demonstrate the impact of the human-animal bond on both humans and animals. She is the Principal Investigator for the Canines and Childhood Cancer Research study, the Pets in the Classroom study, as well as many more research projects. Dr. McCullough also promotes animal-assisted therapy nationwide to benefit our nation's most vulnerable in specialized settings such as children's hospitals. In 2013, she and her therapy dog were deployed to Boston on behalf of American Humane to provide comfort to the community in the aftermath of the marathon bombings. She is also the owner/handler of Butler, The Weather Channel Therapy Dog, and conducts service missions to bring hope, help and healing to communities devastated by hurricanes, tornadoes, and other severe weather disasters.
Dr. McCullough holds a master's degree from Queens University of Charlotte and a doctoral degree from the University of Denver.