VALENCIA, SPAIN, July 20, 2020 — American Humane, the United States' first national humane organization and the world's largest certifier of animal welfare and well-being, announced that Oceanogràfic, the largest aquarium in Europe, has earned the Humane Certified™ seal. The seal is awarded through the American Humane Conservation program and demonstrates the good welfare and treatment given to the creatures in its recipient's care. Oceanogràfic passed rigorous and lengthy, expert third-party audits to join more than 60 other world-class zoological facilities in earning the certification.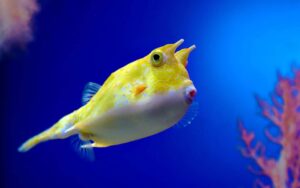 The American Humane Conservation program is the first certification program solely devoted to helping verify the welfare, well-being and demonstrably humane treatment of animals living in zoos, aquariums and conservation centers across the globe. The program enforces rigorous, science-based and comprehensive criteria for animal welfare, developed by an independent Scientific Advisory Committee comprised of world-renowned leaders in the fields of animal science, animal behavior and animal ethics.
"We commend Oceanogràfic for voluntarily opening their doors and undergoing exhaustive examinations including in-depth comprehensive assessments of actual animal welfare conditions and practices for some 15,000 animals and more than 600 species, and intensive on-site assessments by a team of independent auditors," said Dr. Robin Ganzert, American Humane president and CEO. "As a result of meeting the many outcomes-based welfare requirements involved by the program, this zoological facility is joining a select group of leading institutions around the world in qualifying for this certification."
The American Humane Conservation program's extensive criteria exhaustively verify the many dimensions of animal welfare and well-being, with areas of evaluation including: excellent health and housing; positive social interactions within groups of animals, as well as between animals and handlers; safe and stimulating environments, with concern for factors such as appropriate lighting, sound levels, air quality, and thermoregulation; and, evidence of thorough preparation and protocols established to prevent and manage medical or operational emergencies. For added rigor, Oceanogràfic's compliance with the American Humane Conservation standards was verified through an independent audit.
Among other creatures, Oceanogràfic cares for penguins, sharks, jellyfish, beluga whales, crocodiles, dolphins, sea lions, and species of fish from around the world.
You can read more about the American Humane Conservation program here: http://humaneconservation.org/.
About American Humane
Founded in 1877, American Humane is the United States' first national humane organization and the largest certifier of animal welfare in the world, overseeing the care of some one billion creatures each year. For more information about American Humane, please visit www.AmericanHumane.org.
About Oceanogràfic
Located in the avant-garde architectural complex of the City of Arts and Sciences in València, the aquarium, operated by Avanqua-Oceanogràfic. SL, is a true tribute to the seas and oceans of the planet and contains large aquariums which faithfully reproduce the most important marine ecosystems. In this way, Oceanogràfic València is configured as a first-rate scientific, educational and recreational center, also accredited by Association of Zoos and Aquariums (AZA), European Association of Zoos And Aquaria (EAZA), Asociación Ibérica de Zoos y Acuarios  (AIZA) and European Association for Aquatic Mammals (EAAM), among others. The location of Oceanogràfic València is derived from the city's close relationship with the sea. Beyond its recreational component, its main objective is to actively promote the conservation of the seas and their inhabitants and to disseminate the importance of this message among the population of the community of València and the rest of the world. To do so, it regularly carries out research and education projects related with the sea and oceans. In its pursuit of raising awareness of this environment, Oceanogràfic offers visitors a journey through different marine ecosystems.