PARSIPPANY, NEW JERSEY, February 6, 2017 — Zoetis, the leading animal health company, today announced the expansion of its K-9 Courage™ Program to support two American Humane initiatives benefiting military dogs and service dogs that assist veterans: the Wags4Patriots program that helps provide service dogs for veterans who suffer from Post-Traumatic Stress (PTS), and the Emergency Veterinary Grants for Military Dogs program that awards financial grants to provide emergency treatment to retired military dogs in need.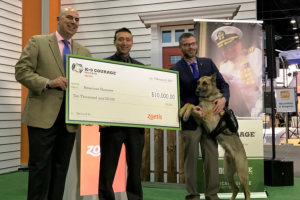 The Zoetis K-9 Courage Program, which provides healthcare assistance to retired police and military dogs, launched in March 2015 in partnership with the Sage Foundation for Dogs Who Serve and the National Police Dog Foundation.
"We are thrilled to expand our K-9 Courage Program to include service dogs that have specialized training to provide critical assistance to veterans with Post-Traumatic Stress," said Steve Leder, senior vice president, Companion Animal and U.S. Distribution at Zoetis. "Through this new partnership with American Humane and its Wags4Patriots program, Zoetis can help make an immediate difference in the lives of these veterans as they cope with this disorder and strive to heal. It allows us to raise awareness about the important roles these dogs play in human lives, and why it's so critical to help ensure their good health."
The K-9 Courage Program provides the owner of each dog with $300 annually on a debit card that can be applied toward any veterinary expense ranging from wellness visits and vaccines to prescription medications and treats.  After quickly reaching its inaugural year goal of supporting 500 dogs, the program has already expanded twice to help meet demand. With this new expansion in 2017 to help service dogs used in the Wags4Patriots program, the K-9 Courage Program will assist 650 retired military, police and PTS service dogs.
"American Humane is devoted to harnessing the healing powers of the human-animal bond to help veterans, and specially trained Post-Traumatic Stress service dogs can reduce stress and anxiety levels, mitigate depression, ease social reintegration, provide comfort, and restore confidence in affected veterans," said Dr. Robin Ganzert, president and CEO of American Humane. "However, there are obstacles standing in the way for veterans in need of service dogs, including the costs of caring for a service dog. We are grateful that Zoetis is helping support these worthy American military heroes – both canine and human."
To learn more about Wags4Patriots and the Emergency Veterinary Grants for Military Dogs programs from American Humane, please visit https://www.americanhumane.org/program/military.
In 2017, Zoetis will provide approximately $225,000 in financial support for the beneficiaries of its K-9 Courage Program, in addition to product donations. To learn more, please visit www.k9couragefromzoetis.com.
---
About American Humane
American Humane is the country's first national humane organization, founded in 1877. For more information, please visit www.americanhumane.org.
About the Sage Foundation for Dogs Who Serve                                                                                                  The mission of the Sage Foundation for Dogs Who Serve is to promote the welfare of dogs who have faithfully served—often in harm's way—in wars, police work, crime prevention and rescue efforts. The Sage Foundation for Dogs Who Serve provides medical funding through donations and strives to educate the public about the value of these four-legged soldiers once their tours of duty are complete. For more information, go to http://sagefoundationfordogs.org/.
About the National Police Dog Foundation
The National Police Dog Foundation was founded in 1998 as a 501(c)(3) organization to provide support for law enforcement K-9 units. The Foundation's mission statement is to promote education and awareness and raise funds for the purchase, training and ongoing medical care for active and retired police K-9s. The NPDF has a network of veterinarians including primary care doctors as well as some of the country's most recognized specialists. The NPDF currently assists law enforcement agencies nationwide to achieve their goals by assisting them to obtain quality, well-trained police dogs who in many cases become heroes in the communities they serve. The Foundation's efforts are all done to support America's selfless and courageous K-9 heroes. More information on NPDF is available at http://www.nationalpolicedogfoundation.org/.
About Zoetis
Zoetis (zô-EH-tis) is the leading animal health company, dedicated to supporting its customers and their businesses. Building on more than 60 years of experience in animal health, Zoetis discovers, develops, manufactures and markets veterinary vaccines and medicines, complemented by diagnostic products and genetic tests and supported by a range of services. Zoetis serves veterinarians, livestock producers and people who raise and care for farm and companion animals with sales of its products in more than 100 countries. In 2015, the company generated annual revenue of $4.8 billion with approximately 9,000 employees. For more information, visit www.zoetis.com.