Robin R. Ganzert, Ph.D.
Biography
Dr. Robin R. Ganzert is President and Chief Executive Officer of American Humane.
As the leader of the country's oldest national humane organization, best-selling author, and internationally recognized expert in philanthropy, Dr. Ganzert is sought after as a key source of news and opinion by major media, scientific publications, panels and national conferences, and is regularly featured in such forums as The New York Times, USA Today, CNN, The TODAY Show, Fox and Friends, NPR, On the Record with Greta Van Susteren, the BBC, and the Associated Press. She is the author of the book Animal Stars: Behind the Scenes with Your Favorite Animal Actors and has been published in GRAND Magazine, FoxNews.com, The Hill, the Journal of Financial Planning, Philanthropy Journal, Advancing Philanthropy, Annual Review of Animal Biosciences, The National Provisioner, The Pork Network, The Cattle Network, and many more.
Upon joining American Humane in October 2010, Dr. Ganzert began achieving substantial progress in increasing the reach and effectiveness of its historic programs, growing its lifesaving services by 1,000 percent in four years. She has substantially increased global awareness about the organization, improved its operational efficiency, and established new efforts of national significance, including the Animal Welfare Research Institute, the Children's Innovation Institute, the American Humane Hero Dog Awards™, and major research studies on the effects of animal- assisted therapy on children with cancer and the lifesaving value of service dogs for veterans with post-traumatic stress.
To increase American Humane's visibility to the public and to the philanthropic and legislative communities, Dr. Ganzert moved the organization's headquarters to Washington, D.C. and initiated extensive public awareness efforts including numerous interviews and public appearances; building a large, diverse "celebrity cabinet"; holding signature events in key philanthropic markets; implementing a National Humanitarian Medal program; and hosting her weekly Be Humane™ radio show on Pet Life Radio.
In 2012 Dr. Ganzert was honored with a national Fiduciary Leader Award by the Investment Fiduciary Leadership Council in Washington, D.C. She won in the category of "Visionary Leader."
Prior to joining American Humane, Dr. Ganzert served as Deputy Director of Philanthropic Services at The Pew Charitable Trusts in Washington, D.C., where she provided senior leadership and management for global philanthropy. Before joining Pew, Dr. Ganzert was Senior Vice President and National Director of Philanthropic Wealth Management, a division of Wachovia Bank, N.A. She formerly served as the National Director of the Wachovia Center for Planned Giving.
Dr. Ganzert frequently presents at international and national industry forums on family philanthropy, best governance practices for nonprofits, and charitable giving strategies. Her international speaking engagements include U.S. State Department events in Ireland and Russia, and industry events in Sweden and Singapore. She served on the faculty and presents frequently at the National Conferences on Planned Giving, Council on Foundations convenings, regional planned giving and estate planning forums, and is a contributor to The Food Dialogues, an ongoing national conversation moderated by Emmy-Award-winning journalist Elisabeth Leamy on how we grow and raise our food.
Dr. Ganzert received her B.S. and M.B.A. from Wake Forest University and her Ph.D. from the University of North Carolina at Greensboro. She holds five professional financial management and accounting certifications, including Accredited Investment Fiduciary and Management Accounting.
She serves on the advisory board of directors for the Lois Pope LIFE Foundation and on the editorial board for Advancing Philanthropy. She also serves as an advisory council member of the Global Dairy Action Agenda for Sustainability.
Authored Content
Hurricane Florence, which is rapidly approaching the U.S. East Coast, was upgraded to Category 4, indicating that "catastrophic damage will occur." Its 130 mph winds of destruction will likely hit…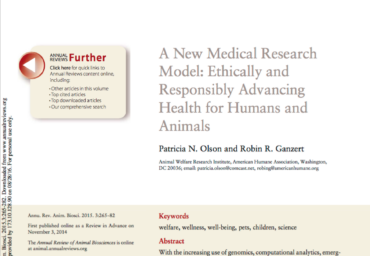 Animals used in research have contributed mightily to the advancement of human health. There have also been egregious uses of animals in pain, physiological, and psychological studies; cos- metic testing;…
Since the early days of film and movie-making, animal stars have charmed and entertained us. But what are these animal icons's lives and personalities like off-screen? For the first time…