Adopt-A-Cat Month®
Brought to you in June by American Humane
American Humane celebrates Adopt-A-Cat Month® each June – a month that also marks the height of "kitten season," when large litters of kittens are born and often end up in animal shelters.
More than ever, they need our help. Not only are thousands of newborn kittens joining the millions of cats already in shelters, but a lack of foot traffic, funding and supplies at many shelters struggling to maintain operations during the COVID-19 pandemic further threaten these beautiful animals and their hopes to find a forever home. To help, American Humane is devoting the 47th annual "Adopt-a-Cat Month®" to encouraging animal lovers to visit their local animal shelter and adopt a cat – or two, contribute to our "Feed the Hungry" campaign, which is delivering hundreds of thousands of meals to shelter animals, and learn more about the joys (and responsibilities) of adding a cat to their families.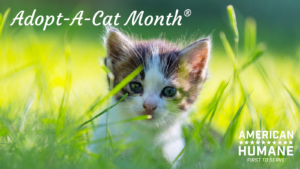 Resources
Whether you're bringing home your first cat or adding to your brood, American Humane wants to ensure all pet owners are prepared for the joyful – and sometimes confusing – moments of adopting a cat.

---