Help Veterans
get their lives back
This month, join us in celebrating the profound, life-changing independence our Pups4Patriots™ dogs provide for our veterans and first responders. Your gift today will help continue this journey, enabling more dogs to bring hope, healing, and a sense of home to more patriots in need.
Donate »
Meet the Pups
6
service dog training centers across the country
85
veteran/service dog teams trained through the program
262
healing leashes put in the hands of veterans in need of help
At American Humane, we believe in the power of second chances, new beginnings, and life-changing partnerships.
That's the core of our Pups4Patriots™ program – a journey that begins with a puppy in need and ends with a patriotic hero gaining a companion for life.
The Training Begins

Our journey starts with puppies selected for their potential to serve and bond with their handler. Raven, Nico, and Brave are our newest recruits, currently in the early stages of their transformational journey.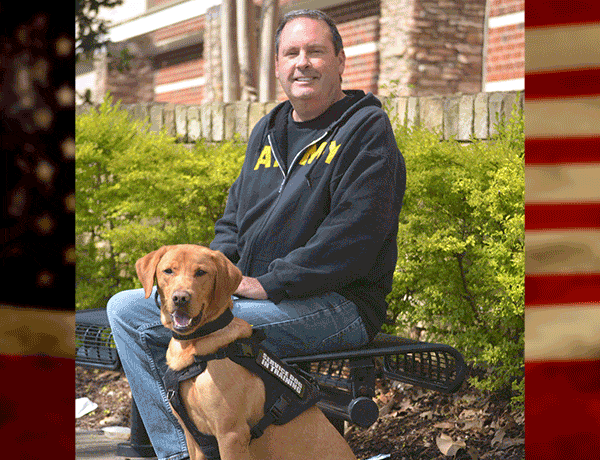 Flourishing Partnerships
Through your ongoing support, we've seen amazing partnerships bloom. Pairs like John & Savior, Jim & Ryder, and our inaugural first responder pair, Christina & Freja, stand as heartwarming evidence of the life-changing power of these bonds.
Beyond Service: A Family Bond
And this journey isn't just about service – it's about family. Our Pups4Patriots™ dogs extend beyond their call of duty to become beloved family members. They're there for life's special moments, providing comfort, companionship, and love.
Meet the
Pups
Meet the puppies training to become life-saving best friends for veterans in need.
Brave
Brave has been training on city streets so she can get used to cars and trucks going by. An important part of service dog training is getting them comfortable with the world so they can help their veteran!
Buster
Buster is as happy as ever and is moving along well with his training! While in public, he's been getting practice walking next to a shopping cart, training in busy neighborhoods, and holding a down-stay while one of his handlers does yard work.
Diesel
Diesel has been practicing ascending and descending stairs next to his handler and maintaining proper behavior on an elevator. He's a happy boy and is coming along great with his training!
Nico
Nico enjoys his training sessions in the kitchen where he is getting used to different appliance sounds and activity.
Colt
Colt is doing amazing — he loves practicing his service dog tasks and is always excited to perform them!
Moose
Moose has been working on his skills in the grocery store and loves getting rewarded for his good work!
Tiny
Tiny's been honing her skills in public transportation, riding buses and trains with her handler. She's adapting well to the hustle and bustle, ensuring a smooth and seamless journey for her future companion.
Huey
Huey's been training in bustling parks, gradually acclimating to the sounds of children playing and skateboards rolling by. He's making great strides in becoming a confident and capable service dog!
Nova
Nova's been learning to navigate through busy intersections, patiently waiting at crosswalks and responding to traffic signals. Her confidence and attentiveness ensure safe and reliable mobility support.
Become a Monthly Supporter and
receive exclusive PUPdates!
PUPdate #1: Jereme and Lillie

Jereme, a proud veteran, was paired with Lillie through our Pups4Patriots program. Thanks to Lillie's unwavering support, Jereme was able to achieve a remarkable milestone — he confidently walked across the stage at his college graduation with no fear. With Lillie by his side, Jereme felt an incredible sense of accomplishment and independence. It's stories like these that remind us of the profound impact our service dogs have on the lives of our veterans.
By becoming a monthly donor, you not only help us continue our mission of transforming lives but also receive heartwarming updates on the incredible journeys of our pups. You'll hear stories like Jereme's, where the power of partnership between a veteran and their service dog opens up a world of possibilities.
Frequently Asked
Questions
For your convenience we have put together some of the most commonly asked questions below about how our program works. Of course, if you have a question not covered here, please feel free to call (800) 227-4645 or email us at [email protected].
Q: Why give monthly?
A: Your pledge will have an immediate and lasting impact, transforming lives and making a world of difference for the animals we serve. The Pups4Patriots™ program, for example, rescues unwanted dogs and trains them as service animals for veterans and first responders.
This program, like many others at American Humane, thrives thanks to supporters like you. Each month, your gift will ensure that puppies like Raven, Nico, and Brave receive the training they need to become companions to our nation's heroes. It also supports the vital work we do, from disaster response to ensuring animal welfare on film sets, and beyond.
Q: Once I've made an online gift, how can I make changes to my account (i.e. change amount, change my credit card number)?
A: It's so easy! Please just call (800) 227-4645. If we receive your change prior to the month's processing deadline we can make the change effective for that month. If not, it'll take effect the next month.
Q: What if I need to stop giving. Can I stop whenever I want?
A: Of course! Just call (800) 227-4645. Your cancellation will take place the same month, or the following month, depending upon when we receive your call.
Q: Will I receive verification of my donations for tax purposes?
A: All monthly donors receive an annual statement reflecting the prior year's total contributions. This statement is usually mailed in February.
Q: When will my credit card first be charged?
A: Monthly charges occur once per month. Your first online gift will be charged to your card on the date that your transaction is made. All subsequent charges will occur on/around the same date every month.
If you prefer to give by phone, please call (800) 227-4645.