Last week, on the morning of September 1st, retired Military Working Dog Fredy ran into the loving arms of U.S. Marine Corps veteran Nicholas Rice, Fredy's former handler and forever best friend. The pair had been separated for seven months after serving together in Japan.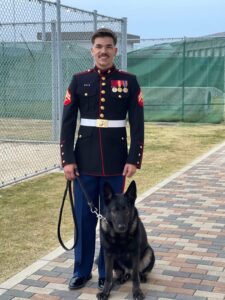 The two were paired because of their similar personalities – both known for being easy going and happy-go-lucky. This helped them quickly bond as they worked together to conduct vehicle searches, respond to explosive threats, patrol the base and maintain security while deployed overseas. Rice was also responsible for caring for Fredy, specifically bathing and feeding him.
According to Rice, "It's the simple stuff that I miss the most and those memories were the hardest thing to let go of when I was leaving. I wanted to be his buddy for life."
In February 2022, Rice left Japan, but he knew he wanted to be the one to give Fredy a forever-loving home once Fredy finished his years of service. When Fredy was recently medically retired, Rice reached out to American Humane for help.
We worked with Rice and the U.S. Military to transport Fredy more than 6,000 miles from Iwakuni, Japan to Indianapolis, Indiana, where Rice was patiently waiting with open arms. Now, Rice looks forward to traveling with Fredy, doing lots of outdoor activities and everything else he may have missed out on while working! Fredy loves sticking his head out the window, so Rice plans to take Fredy on long drives every day, giving him the relaxing, fun-filled retirement that he so deserves.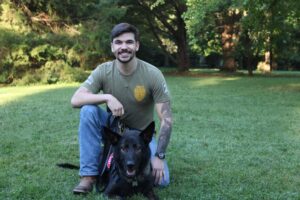 "I'm kinda speechless just because I've never had a reunion with one of my best friends before. It's a good feeling though," Rice said when he finally saw Fredy again.
You can watch the heartwarming reunion here. Welcome home, retired MWD Fredy!