This month, American Humane is celebrating the graduation of two veteran and service dog pairs from the Pups4PatriotsTM program. Through the heat of a southern summer and the challenges of an international pandemic, the American Humane trainers, mental health professionals, veterans and, of course, courageous pups, worked diligently to train well and safely.
The Pups4Patriots™ program provides specially trained service dogs for veterans with post-traumatic stress or traumatic brain injury. Once trained, service dogs can help mitigate symptoms associated with trauma.
Chico, a United States Air Force veteran who resides in South Carolina, found the program through his VA counselor. After training for a week with Maxie, a female German Shepherd, Chico admitted that while the work had been a "tough experience for someone who doesn't know anything about dogs," already his new companion felt like "one of my kids." Looking forward, Chico is excited to have "another companion, getting me through my day-to-day."
In light of the novel coronavirus, all of the training was conducted outdoors and with masks. According to Joni, this wasn't "an easy thing to do," but the bond she formed with her dog Bella made the process "totally worth it."
Joni, a United States Navy veteran who resides in Florida, drove seven-and-a-half hours for this training. According to her, "there were triggers all along the away… I would not have done that if it weren't for the hope of a service dog."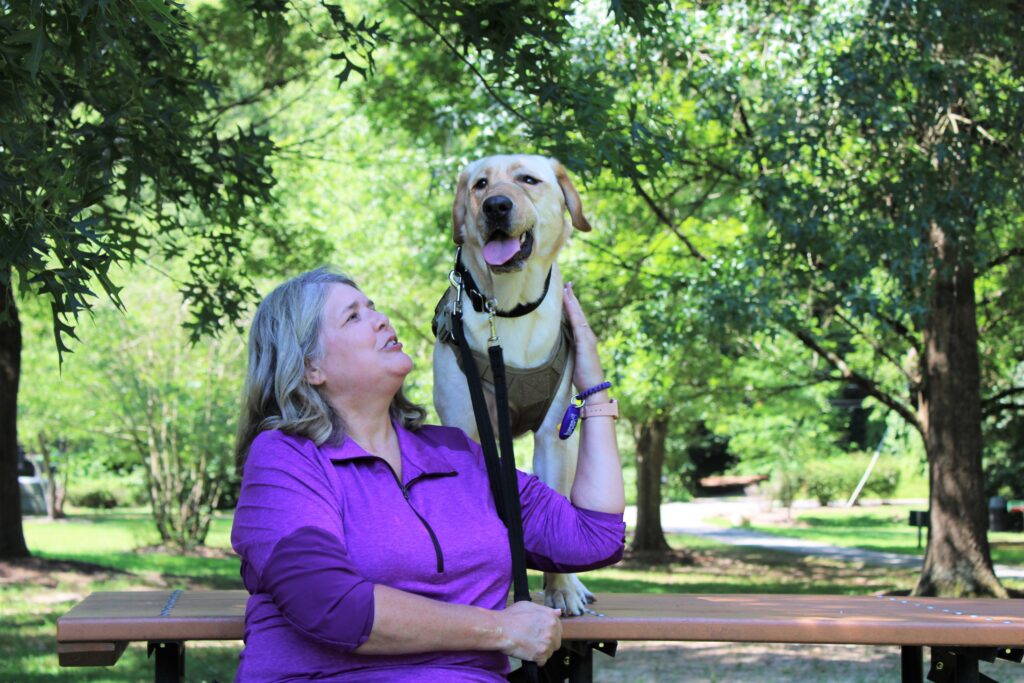 After ten days of training with Bella, a female Labrador Retriever, Joni feels, "like I can already walk through a park without looking over my shoulder and my anxiety is almost nonexistent." Joni is looking forward to Bella empowering her to live a life that she is passionate about: "I love to travel and I have been all around the world. I like to be out and be active and to be in shape and I think Bella is perfect because she is going to help me to do that – she's got my back."
Service dogs perform a variety of tasks, including grounding and creating space. When a service dog responds to a grounding cue, they rest their entire body against their handler. Just the dog's physical touch can ground the veteran and help de-escalate their anxiety. For those who are uncomfortable in large crowds, or with people being in their personal space, upon the handler's cue, a service dog will position him/herself in front or behind the handler to create space between the handler and other people.
While service dogs are an invaluable asset to veterans with trauma, there are significant obstacles to receiving one. Properly training a dog so they will remain calm and unobtrusive in crowds, public areas and help a veteran with trauma symptoms is expensive – costing up to $30,000 per dog. When cost isn't an obstacle, wait times can still be prohibitively long.
Through the Pups4Patriots™ program, American Humane provides service dogs to veterans at no charge to them. The Pups4Patriots™ program, and the training of Bella and Maxie, is made possible through the generous support of Zoetis Petcare, a longstanding partner of American Humane. To learn more, and fund lifesaving service dogs, visit www.americanhumane.org/program/military/.