American Humane has a long history of helping animals in war zones dating back to the bloody battlefields of World War I when we were asked to provide care for millions of war horses. Today, another battle for freedom is being waged and, sadly, innocent human and animal lives are being put in peril. Continuing on our historic mission, we are providing aid to Ukrainians fleeing the war-torn area with their pets in tow.
"This assistance will not only help these refugees keep their pets with them but also help to meet basic pet needs including housing, food and veterinary care. The situation unfolding in Ukraine is a tragedy for people and their animals, many of whom are being left behind as their owners seek safety from this unspeakable brutality. We hope and pray for a swift end to this nightmare and encourage all pet owners to keep their pet with them if at all possible."
– Robin Ganzert, president and CEO of American Humane.
Animals helped in this effort include horses being cared for by a brave veterinarian who refuses to leave sick and injured animals behind. Many horses she is providing medical support to are innocent victims who have received bullet wounds and contusions as result of the conflict.
Varvara, a Canadian Sphinx who has huddled for weeks with her owner in an improvised bomb shelter – a bathroom in a rented apartment in Kyiv – instead of a real bomb shelter as they are too cold for Varvara who could sicken and die. Varvara and her owner are now safe in Germany.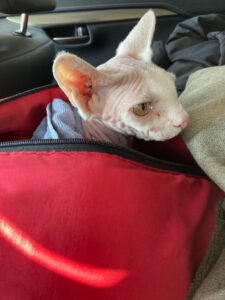 Tata, a rescued dog named after the town where she was found wandering as a puppy. Tata fled Ukraine on foot with her owner, relying on the help of strangers and friends to get them safely out of the country. Today they are safe in Turkey.
These are just a few of the desperate animals and people who are dealing with the traumas of war. In addition to helping these refugees, we have given two emergency grants to the International Fund for Animal Welfare in support of their work to assist animal shelter partners and wildlife sanctuaries impacted by the ongoing war in Ukraine. These critical funds also aid their frontline efforts in Poland, helping to provide care and much-needed resources to desperate animals evacuated from Ukraine.
It is only through your generosity that we can be there for the most vulnerable in their greatest hour of need. We continue to pray for the end of this senseless crisis and stand ready to help more innocent animals caught in this tragic war on humanity.
To support our lifesaving work, you can make a donation at www.americanhumane.org/ukraine-crisis.