This week, American Humane staff had the unique honor of facilitating the reunion of two battle buddies, retired Military Working Dog Chickel and U.S. Air Force Staff Sergeant Kyle Johnson. The reunion took place in pastoral North Carolina, where SSgt. Kyle's family welcomed Chickel to their home.
The pair served together in Korea, where Chickel worked as a patrol dog. From a young age, SSgt. Johnson knew he wanted to serve in the military and joined the U.S. Air Force just a year out of high school. From the outset of his service, SSgt. Johnson aimed to train and handle K-9s and leaped at the opportunity after working in security forces for three years.
"Chickel is the best dog I have ever worked," said SSgt. Johnson. "He's not only been the best partner that I've had, but my best friend."
Just months after his daughter was born, SSgt. Johnson returned to Osan Air Base in Korea where he was stationed. While Kyle was separated from his family, Chickel was a constant source of care and compassion. Around the base, other airmen recognized Chickel as a loving dog and a dear friend.
"He was able to fill that void for me, be there for me, through all those hard times. The days when I missed her, he knew – he wouldn't leave my side, he'd stay with me," said Kyle of his days in Korea away from his family.
American Humane has worked alongside the U.S. Armed Forces for more than a hundred years, since the U.S. Secretary of War requested that our animal first responders deploy to war-torn Europe to care for injured horses during WWI. Today, American Humane continues to deliver on its commitment to military personnel, their families and the animals they hold dear by assisting in MWD reunions.
American Humane volunteer Cheryl Friedman worked along Staff Veterinarian Lesa Staubus to ensure Chickel's safe return.
"From the minute I took him out of the crate, he was an amazing animal. He didn't look stressed or tired," Cheryl said. "I just think what American Humane does with these war dogs is wonderful"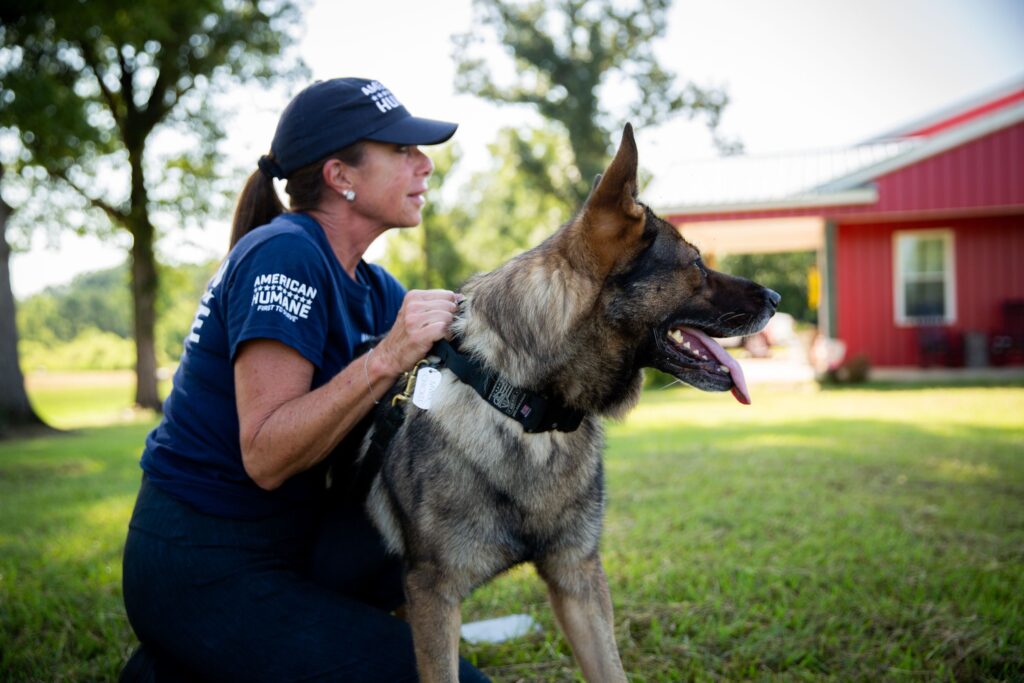 American Humane's recently launched Military Working Dog Reunification fund enables our team to reunite more veterans and active-duty service members with their best friends. Thanks to the generous support of donors, American Humane is able to cover veterinary care for K-9 veterans.
To learn more about our military program, and support additional reunion efforts, please visit www.AmericanHumane.org/military.