In the aftermath of the tragic flooding that killed 37 people and displaced thousands more from their homes, American Humane deployed its Rescue Team to Eastern Kentucky to provide disaster relief including animal search and rescue along with pet food, water and supply distribution to residents and their beloved pets.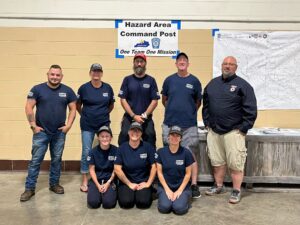 As part of a coordinated effort with the National Animal Rescue and Sheltering Coalition (NARSC), American Humane first responders have been working on the ground alongside the American Society for the Prevention of Cruelty to Animals (ASPCA) and the International Fund for Animal Welfare (IFAW) since Monday, August 8 and continue to remain in the area.
Partnering with American Humane and ASPCA, the Kentucky River Regional Animal Shelter has been providing services to four of the counties affected by the floods including Perry, Knott, Letcher and Breathitt Counties. The shelter has been receiving donations of food, water and animal supplies from pet food companies, distributers and animal welfare organizations, while also housing over 60 dogs, 40 of which have been displaced from their homes. IFAW is leading the efforts for animal care at the shelter, organizing operations, requesting additional supplies as-needed and distribution of donated supplies to residents in the quad-county area.
Last week, American Humane received a request for assistance in neighboring Floyd County, where disaster relief efforts recently began.

American Humane first responders have answered hundreds of calls in their short time on the ground, providing much-needed supplies and saving countless cats and dogs displaced from their owners. On Thursday, August 11, the Rescue Team was alerted to an urgent animal rescue request in Knott County. Neighbors in a local community heard several dogs barking from an unoccupied home affected by the tragic flooding. The team immediately set out to answer the call.
The mission to rescue these dogs was treacherous, with several downed trees and powerlines blocking their path. The team donned safety gear and used ladders to climb a washed-out ravine to reach the home. Upon arrival, the team saw a litter of dogs ranging from six months to 1 year old – desperate for help and suffering from dehydration, malnourishment and severe skin diseases, with all needing immediate veterinary care. After safely removing two dogs from the property just after nightfall, they were taken to Kentucky Regional Animal Shelter for comfort, care and medical attention. On Friday, August 12, American Humane first responders returned to the residence to successfully rescue the remaining three dogs on the property.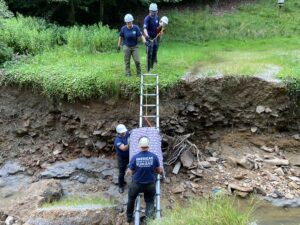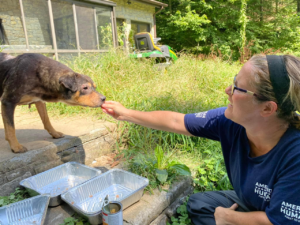 Thousands of residents in Eastern Kentucky have lost everything – many of whom are now homeless and residing at local Red Cross shelters, which are beginning to overflow with both humans and animals. First responders are frequently visiting these shelters to provide evacuees with animal crates, collars, leashes, harnesses, food and medications, along with administering medications, helping evacuees bathe and care for their pets and arranging veterinary appointments.

Although the devastation seems to be endless with extensive loss of life, destruction of property and boil water notices in effect due to substantial amounts of debris, including cars and homes afflicting natural resources such as the water supply – locals seem to be resilient. Many residents have courageously stepped in to help their neighbors, offering their land to store supplies, opening their homes to shelter their families and friends, and volunteering their time to assist others that have been relentlessly affected by the tragedy.