Hurricane Ida was disastrous for humans, but for the local animals it was just as terrifying and tragic. Many innocent animals were separated from their beloved families – leaving them panicked and alone.
This week, the American Humane Rescue team deployed to Terrebonne and Lafourche Parishes in Louisiana to care for hundreds of displaced animals in the aftermath of the deadly storm. These southern-most parishes suffered the brunt of the destruction, and the wreckage was shockingly apparent as the team drove into the area.
Now, on the ground, American Humane first responders have set up an overflow temporary shelter with the assistance of Terrebonne Parish Animal Shelter, Lafourche Parish Animal Shelter and national partners. The animals are being safely housed and cared for at the shelter by American Humane first responders until their owners can be found. The goal is to reunite as many animals as possible with their families and loved ones. If animals go unclaimed, they will find new forever homes.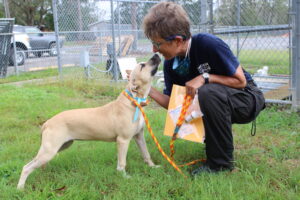 American Humane responder welcomes Lizbeth to the shelter
New animals continue to come into the shelter each day, and our first responders immediately jump into action to provide each individual one with the love and care they deserve. Many are anxious, confused and hungry, but with lots of walks, snuggles and treats, they are starting to perk up and feel safe.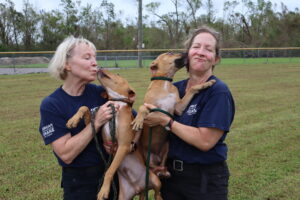 American Humane responders Kristina and Rhonda play with brother and sister puppies, Ken and Barbie
Sending our team to protect animals from dire conditions takes tremendous resources. Your gift today can help us save more lives as we continue working under Terrebonne and Lafourche Parish authorities alongside our national partners on the ground in the coming days to help the animals of Louisiana recover from this terrible disaster. Please visit www.AmericanHumane.org/HurricaneIda to contribute to our efforts.